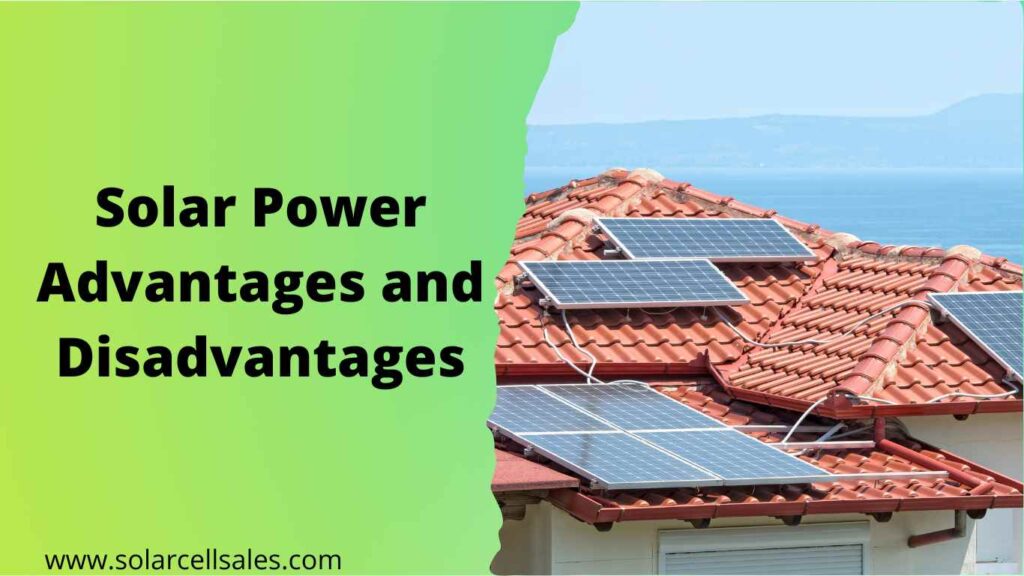 Solar power – the most important facts in brief:
Solar energy is the energy from solar radiation and can be used in the form of electricity, heat or chemical energy
Photovoltaic systems convert the sun's rays into electricity
Solar power has great advantages: it is inexhaustible, environmentally friendly and cheap
A  solar power system increases the value of your home
You can use solar power directly, store it or feed it into the power grid
Due to the high acquisition costs of buying a solar system, rental models are becoming increasingly popular.
Solar power is on everyone's lips in the media and households in the US and Canada. As an alternative to polluting coal power and controversial nuclear power, solar power is one of the main types of green power. Here you can find out what solar power is, what advantages and disadvantages it has and how it can be used.
What is solar power exactly?
Solar energy, also known as solar energy, refers to the energy from the sun's rays that people use in their homes or in industry. The energy can be used in the form of electricity, heat or chemical energy.
Solar power is energy from the sun that is stored in the form of electricity. The conversion of the sun's rays into electricity is carried out by the technology "photovoltaic". In the meantime, complete photovoltaic systems can even be found in every village on roofs or outdoors. The solar cells installed in the photovoltaic systems are responsible for generating electricity. The photons of the sun's rays release electrons in the material of the solar cell, which then flow as direct current through the wiring of the system.
This direct current then flows to the inverter, where it is converted into alternating current. Only then can it be used and fed into the public power grid. From the inverter, the electricity runs through an electricity meter into the house electricity network.
Why use solar power? – The advantages:
Inexhaustible
Since the sun has an extremely long lifespan, its energy is almost inexhaustible. Of course, this is not completely inexhaustible, because at some point every star and every sun burns out. But that will probably take another five billion years. Until then, the sun will provide us and millions of future generations with free energy every day.
Environmentally friendly
The use of solar power emits neither particles nor CO2. In addition, solar systems have a long service life and a positive ecological balance after a very short period of use.
Lower or no electricity bill
It doesn't matter whether you cover all or part of your energy needs with solar power. Producing your own electricity often saves you a lot of money. When buying a solar system , there are of course initial costs, but these are amortized after a few years. If you rent your solar system , the system can be installed on the roof without any acquisition costs and you can benefit from your system from day one.
Would you like to find out how much electricity you are currently using and what the electricity costs are? Our power consumption calculator will help you.
Increased property value of a solar house
If you move and want to sell your house, the value of the house increases due to the solar system. Although some have their solar system dismantled and reinstalled on the new house, sometimes the PV systems do not fit perfectly on the new roof or the effort is not worth it. In this case, homeowners still benefit, because houses with solar roofs are more valuable and very popular.
What are the possibilities of using solar power?
Solar power can be used in the entire household – whether computer, refrigerator, whirlpool, light, heat pump or infrared heating. Everything can be powered by solar power. The only thing you need for this is a PV system. Once installed, you produce your own electricity for 20 to 30 years. Not only do you benefit financially, you also gain independence and protect the environment.
store solar power
A challenge in applying and using solar energy is that the sun does not shine 24 hours a day. Electricity storage devices are used so that the electricity produced during the day can also be used at night .
There are a lot of different power storage devices out there these days. However, the most popular solar power storage devices are classic solar batteries or rechargeable batteries. These make it possible to store the excess electricity when the sun is shining so that it can then be used later.
As an addition to solar power storage, so-called power clouds are sometimes used.
Since solar systems with storage are very important for the energy transition, there are more and more PV funding programs at federal and state level. If you would like to know which subsidies you can benefit from, simply click on your federal state and off you go:
Feed in solar power
If you do not use an electricity storage device or your storage device is already full, the excess green electricity produced is fed into the grid. You will receive a feed- in tariff from the grid operator for this. This was laid down in 1981 in the "Act on Feeding Electricity from Renewable Energies into the Public Grid" in 1981 and was then replaced in 2000 by the Renewable Energy Sources Act (EEG), which is still valid today. So you can not only lower your own electricity bill with solar power, you can even earn money.
Charge your own e-car with solar power
The combination of wall box and photovoltaic is a true dream combination. Electric cars are already significantly cheaper to run than cars with internal combustion engines. If you then also charge your e-car with cheap solar power from your own roof instead of being dependent on expensive mains power, you can save up to 90% of your fuel costs. A wall box helps you to become even more independent, to save more costs and to be environmentally friendly at the same time.
Summary
If you want to generate and use electricity yourself, you have two options: While you could only buy a solar system in the past, you can now rent it.
Professional fitters can come to you personally for the planning. This way, all special features can be examined in detail and adjustments can be made if necessary. This is followed by assembly and commissioning. They will be at your side throughout the entire process and takes over the complete coordination of craftsmen and fitters.
So you can relax while they take care of all the steps for you. They offer every customer maintenance and repairs, as well as insurance and guarantees.